I am loving my Bullet Journal (BuJo). And I didn't buy a moleskine for it, even though I love the paper, I knew I'd hesitate to use it for everyday things. I decided on a grid style composition book, similar to our science journals. Staples was kind enough to have them on clearance for $1. I glued a picture from a calendar onto the cover, then used washi tape to reinforce the edge and create a border:
This is the most awesome and useful page I've made so far, my overview for the current half-term: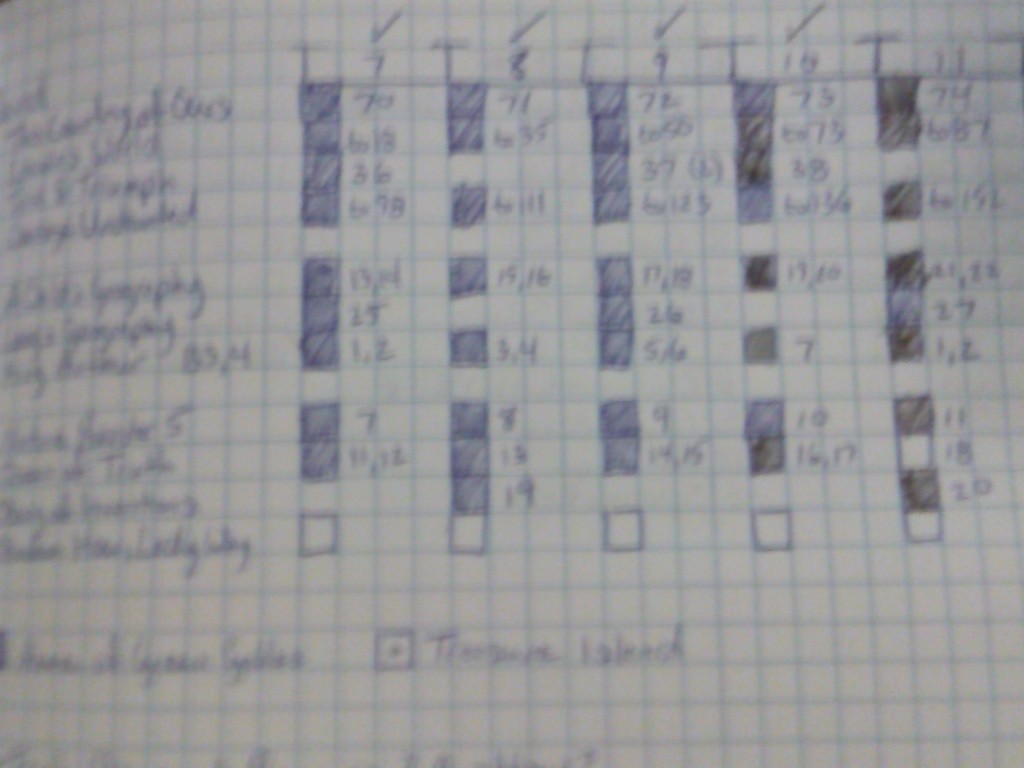 Sorry it's blurry, You can see the columns are labelled 7-12, which are the final weeks of term 1. The first column contains the books being read (my 5th grader). Below them are his free reads. The filled in box means he's finished Anne of Green Gables (he loved it – I told him he would). The box with a dot means he's started Treasure Island. The unfilled boxes in the last row means Madam How, Lady Why has fallen by the wayside. I have been reading that aloud to the older boys, and will be adding it in again in term 2.
I can see all four kids from one spread. On the left page are my 7th grader (long list) and my Kindergartner (just 3 books I'm rotating through). On the right page are my 5th grader (pictured) and my 3rd grader. I *may* try to track math, Latin and other non-AO specifics next mini-term, and I'm not sure how to do that. But I think the accountability will help.
There is great excitement in the Charlotte Mason blogging world. On December 17, Lizzie @ Strong Haven announced a monthly linkup for mother culture. Now we can encourage and support each other in our self-education and renewal. Stay tuned to her blog for updates.
The kids (and I) have been enjoying snow ice cream, thanks to our endless supply of snow. Here's how we make it:
Large bowl of snow (~1 gallon)
1 to 1.5 cups of milk (almond milk works)
1/2 to 2/3 cups of sugar (or equivalent)
Vanilla
Mix. Adjust liquid amounts, but be aware it tends to start more like a snow-cone and end closer to a shake. Eat. Enjoy the brain freeze and being the best mom ever. No, I don't want to hear about what could be in the snow.
Back to the bullet journal (someone from the AO forum requested pictures of bullet journals, which is why it's here twice). From the front of the journal I've done my lists or collections, as they are called. That's where the school tracker, above, is. I also have my habit tracker:
The top habit I start in mid-November, when I heard about bullet journals. It is to eat dinner as a family. The "X" days we ate together at the table. The "O" days mean we ate at the same time, but some other arrangement (buffet style or movie night). The second habit I started in the beginning of December, and I chose a more personal habit: morning Bible study. Since January 1 I've been using JC Ryle's compilation on the book of John. I am loving it. The most recent habit is simply to write (a professional habit). I did not specify any parameters, and the first week I literally (grudgingly) pulled out a piece of paper and freewrote. Then I got back into the habit and have been publishing blog posts. In the next week or to I want to start on another book (I haven't decided between fiction or nonfiction yet). If you look at the top, this page is flagged with a piece of washi tape.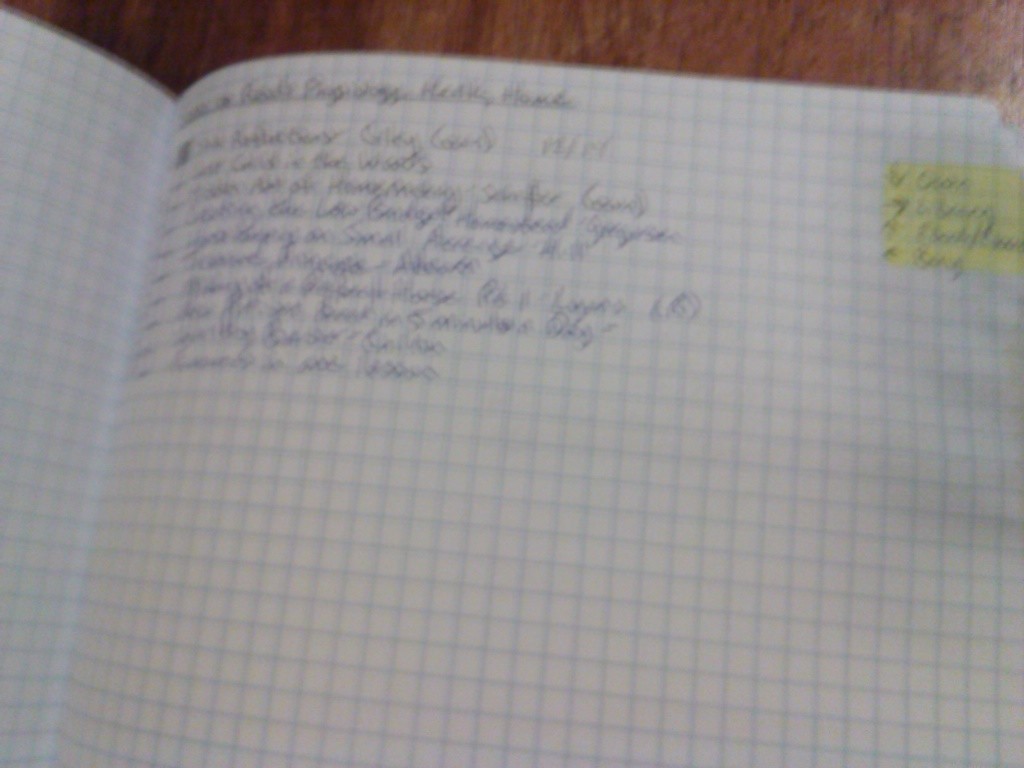 This is one of my generic collections: books I want to read that pertain to education or culture (broadly defined, I will not be bogged down in minutia). I'm sorry they are so blurry, a good camera is on my to-buy list. I made a key (highlighted in yellow) for the book lists, using arrows. Down is own, forward is library, up is ebook or 'the cloud', and back is a book I want to buy.
Back to Charlotte Mason Mama sweetness. This time for the kids too! Anyone struggle with implementing keeping a la Miss Mason? (Keeping is the art of saving bits of information, such as a sketch of an item in a museum, a favorite quote, or a painting of a flower. The "big three" for keeping are the Book of Centuries, the Commonplace Book, and the Nature Journal.) Intrigued? Head over to Joyous Lessons where Celeste has invited you to join up!
Does anyone else NOT do New Year's Resolutions? I don't. First, because having the "new year" start in January when everything is dead and resting seems wrong. The new year starts when the snow melts, the grass pokes up, and the trees begin to bud. Second, I'm leery of starting anything on the 1st or on a Monday.
I should explain a bit about me, some of you are scratching your heads, wondering why I'm so happy about this "bullet journal" thing, which is really just a common notebook. But I think on paper. I love the sensation, the physical act, of writing. (I think the BuJo appeals to a certain subset of people.)
I also experience perfection paralysis. You know, where I sit in front of my keyboard to design the "perfect" planning page. And sit there, and sit there, … Plus, our lives are so unpredictable, I can't plan far in advance. And, again, I'm the type that does not like seeing a "half done" day on my pretty weekly printout. In December, I started writing the kids' school assignments on the whiteboard, then recording what we did in my BuJo. I thought about writing their assignments in a notebook, but decided that was crazy – no one does that in 2015!
But … someone does! Sarah at Amongst Lovely Things blogged about it this week. So yesterday I grabbed a notebook for each of the kids from my stash (in their colors), and wrote down their school list. A short list, because it took half the morning to find a notebook in my 7th grader's color. (He's a budding engineer, and used all the ones I bought. Next August I'm buying him $20 worth of 25 cent notebooks.) But everything got done. My 5-year-old daughter was thrilled to have her own notebook, with three items to check off (reading with Bob, a story book, and piano). Today we had a fuller list and … everything got done. Even drawing: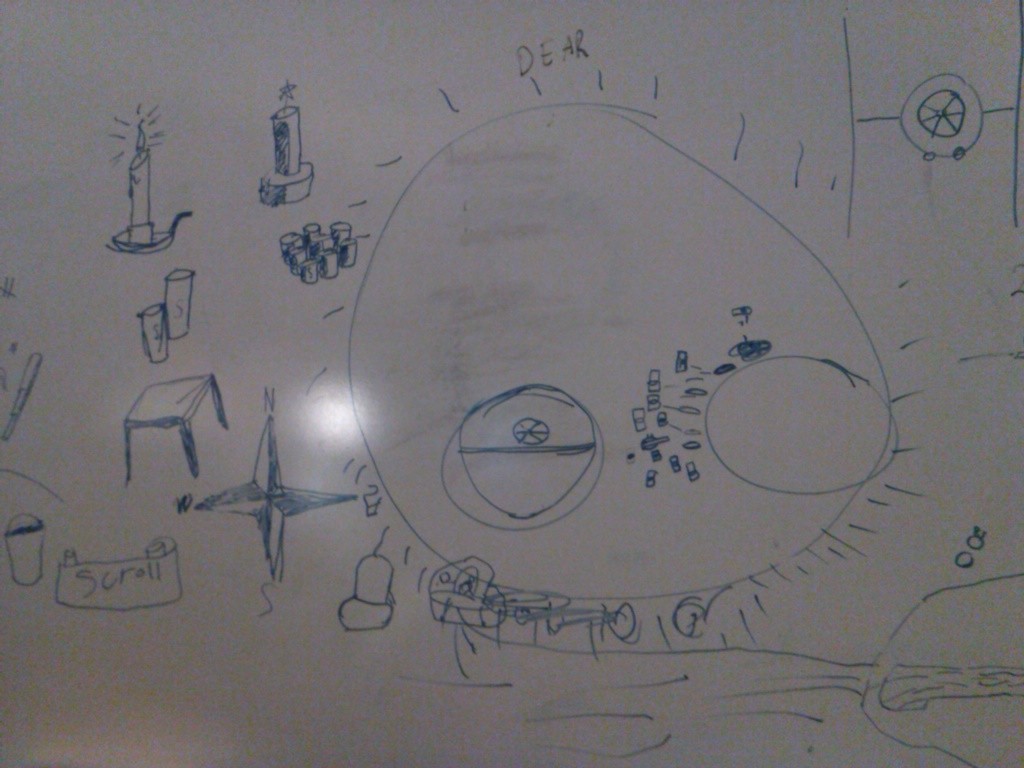 The candles, table, cans and compass are by my 7th grader, using The Drawing Textbook. The rest is a cosmic space battle he drew. This is why he needs 80 notebooks from next year's school sale. Have a blessed weekend!
For more Quick Takes, visit Conversion Diary!