We should start with the pen: it's a Pilot Metropolitan fountain pen (if you flip through the options some colors are less expensive than others). I'm on a couple of artsy Facebook groups, and I saw this pen recommended. (I'll spare you the story about the expensive-to-me fountain pen and the children. It's a sad one. Let's just say this pen is both good and cheap. Ahem.)
The book I am currently using for my bullet journal is a Leuchtturm1917. I don't love everything about the book, specifically the dots, but it has been a great and durable notebook. It also works well with a fountain pen. However, no way to hold said pen. After some idea gathering via google and pinterest I decided to DIY a loop. Other crafty people were crocheting and such, but my readily available material was Gorilla Tape. It came in a fashionable black that happened to match my BuJo.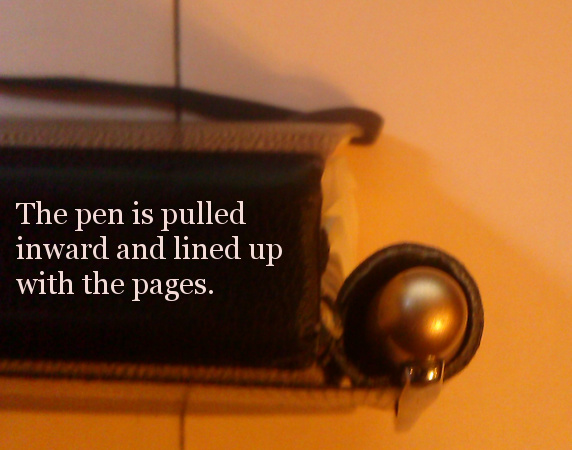 The loop is simply tape wrapped with the sticky side out, then covered with more tape, sticky side in. So all the sticky stuff is stuck together.
At first I simply taped the loop to the inside of the front cover. However my pen kept flopping around, so I ended up taping all around both sides of the cover to keep the pen in place. (All the pictures are "after", sorry. The picture above is looking down at the notebook's spine.)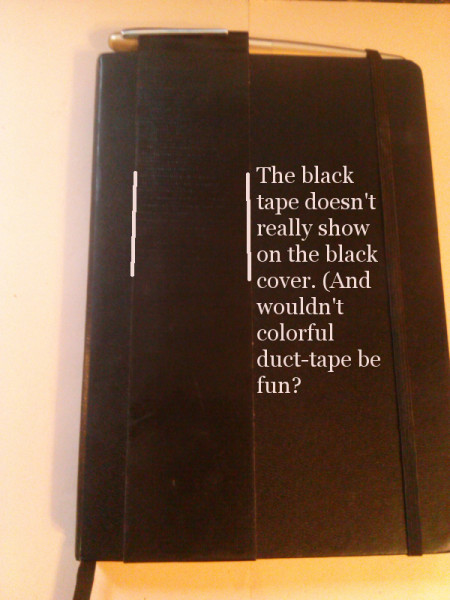 I think the black tape works very well. I can't remember where I saw the idea of using the elastic strap to stabilize the tip of the pen, but it is a wonderful hack.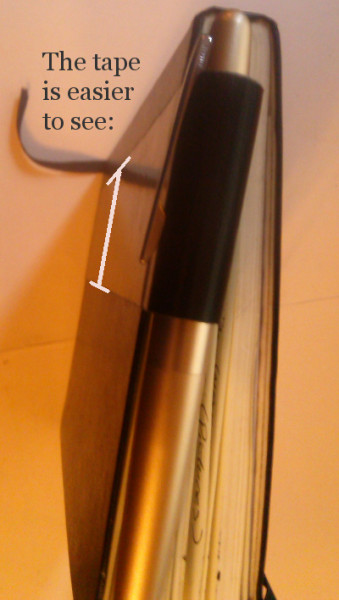 Looking down.
And the inside cover. I marked where the tape overlaps on the inside. Gorilla Tape is much more substantial than duct-tape, so I hope it will last a long time without fraying.
Until tomorrow!